The view inside the upper plate cooking plate of the George Foreman Grill (GFG).
The strain relief wrap around the power cord - a high sprung stainless spring that's actually bolted into the cooking plate. A pretty good detail. It prevents the strain relief wrap from traveling down the power cord after repeated opening and closing of the plates.
The indicator light usually turns on when the element is energizing. Surprisingly, it's a neon lamp instead of an LED.
Single Heating element and a Casted Upper Cooking Plate.
How are we able to see the inner workings of a George Foreman Grill?
Well, here's how it went down.
I come home from work and the dogs are quiet. No barking and no greeting at the door. Hmmm... That means one thing. They got into something.
I look at the boys and they're hunkered down in the bed. DD is shaking. He's always acts guilty and knows that someone (DDD) did a bad thing.
Just like last time... I see the GFG in the middle of the carpet. This time the top plastic housing is missing.
Looks like DDD jumped up on the counter and knocked it off, thus breaking the housing. DDD is the only one that can jump that high.
No chew marks on the housing so the dang dogs didn't tear off the housing. However, they probably licked the inside clean since the housing was in another part of the house.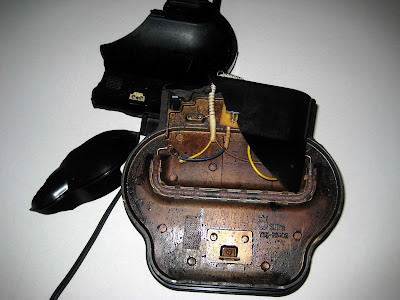 Glossary:
DD Dang Dog, the younger dog
DDD Dang Dirty Dog, the older dog
GFG George Foreman Grill